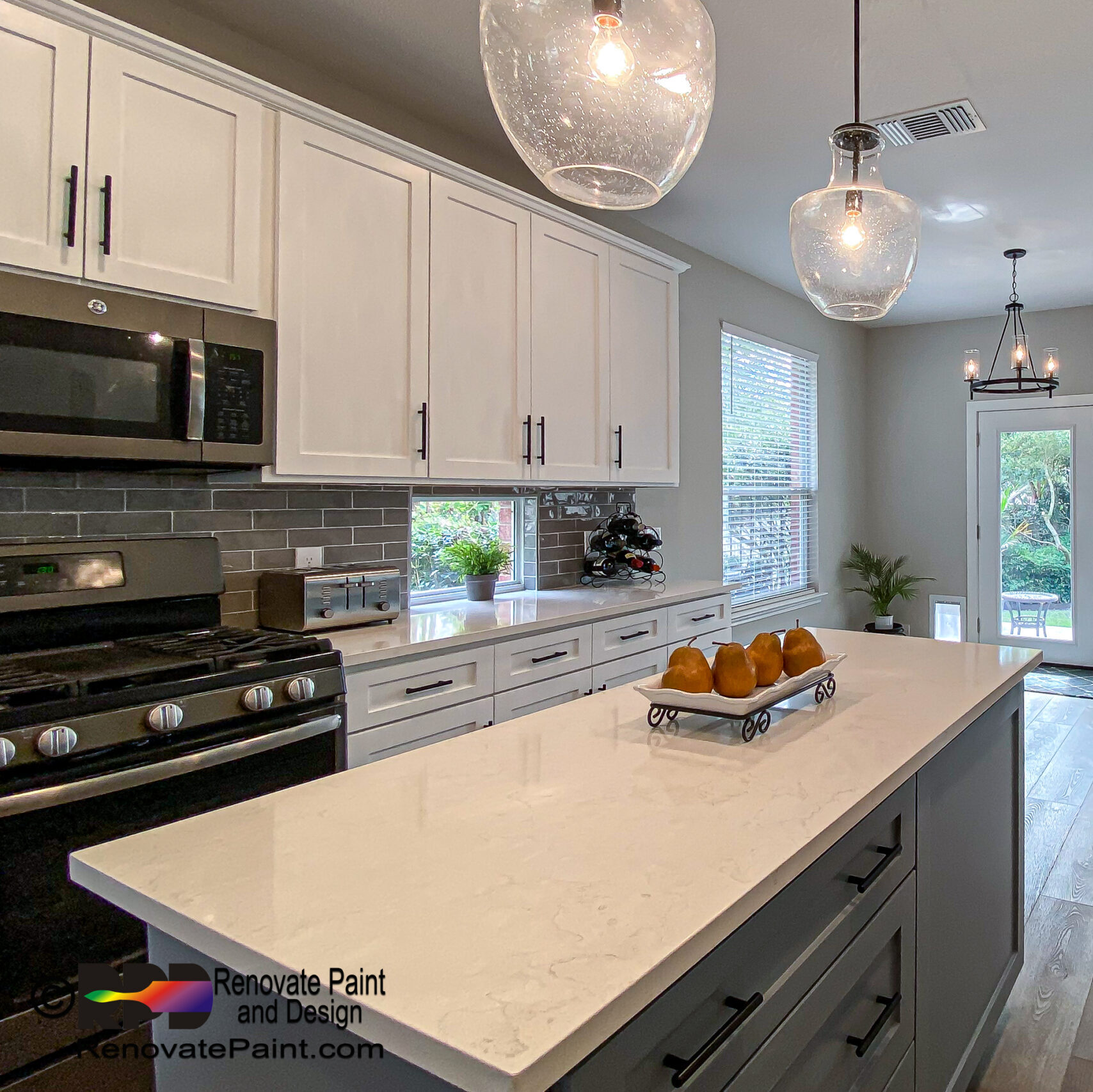 Greater San Antonio kitchen remodeling inspired by your lifestyle, budget, and needs
PROFESSIONAL KITCHEN UPDATES DESIGNED WITH YOU
What type of kitchen will fit your lifestyle? Your ideas and budget are the inspiration for every kitchen we do. Our skilled kitchen remodeling experts will help build the kitchen that suits your lifestyle, needs, and aesthetic tastes.
For many homeowners, the kitchen is the centerpiece for their daily living. Ensuring that this space is not only utilitarian, but, a pleasing environment for family and friend gatherings, and culinary pursuits.
STEP ONE
Budgeting: always a priority before starting any project. Knowing what you can afford helps guide the selection and design process.
STEP TWO
Design: when you begin to design your new kitchen remodeling project, or when looking at specific areas to improve, be sure to take the items below into consideration in your plans.
– Layout design
– Cabinets
– Countertops
– Tile backsplash
– Flooring
– Appliances
– Sinks & faucets
– Lighting
– Painting
– Details (i.e drawer handles, cabinet pulls, etc)
STEP THREE
Demolition: removal of items and structures to prepare for installation of new modifications.
STEP FOUR
Carpentry/drywall: when reconfiguring the layout, walls may be removed and/or added, pantry may be modified, windows may be modified and/or installed, etc.
STEP FIVE
Rough-in Plumbing &/or Electrical: professional/licensed plumbers and/or electricians are utilized for necessary installation of plumbing and/or electrical items. This includes moving or replacing locations of dishwashers, sinks, refrigerators, islands, lighting, etc.
STEP SIX
Cabinets & Countertops: installing pre-established design and style of cabinets and countertops.
STEP SEVEN
Backsplash & Flooring: professionally installing pre-selected backsplash and flooring options.
STEP EIGHT
Drywall repairs & Painting: repairs are made to dry-wall surfaces prior to painting.
STEP NINE
Finish-out Electrical/Plumbing & Installing Appliances: in this final step, all installations occur, such as lighting, faucets, appliances, drawer and cabinet pulls, etc.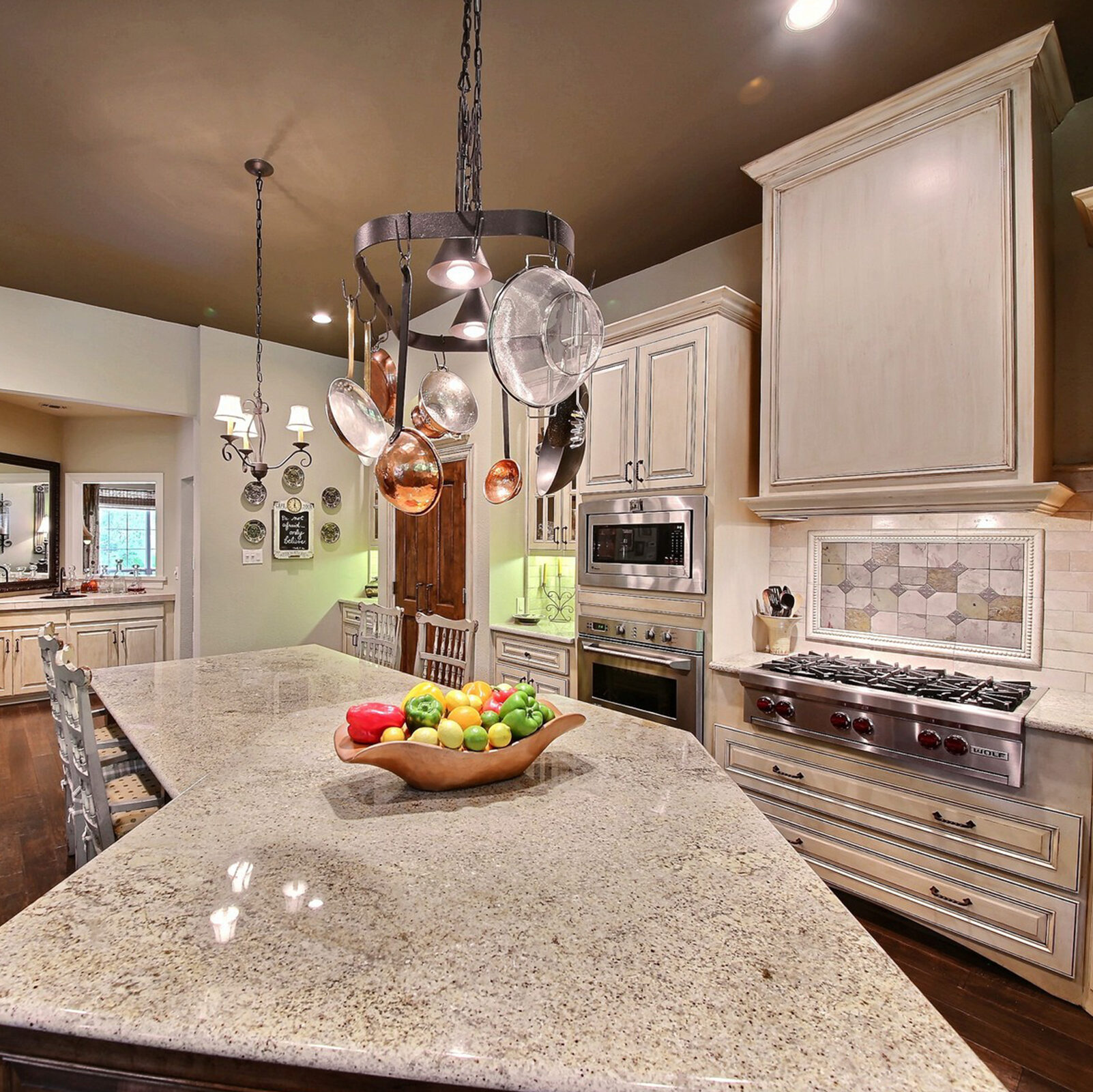 Choosing the right kitchen layout for your space is one of the most important decisions to make.
SELECTING YOUR KITCHEN LAYOUT DESIGN 
Much of your decision will already be dictated by the space and budget available to you. As you plan the kitchen layout, consider where your outlets are located for electricity, and plumbing. Homes are hard-wired/lined and changes to these will require additional labor and time.
There are various kitchen layouts to choose from, which include:
– One Wall
– Two Walls
– L-Shape
– U-Shape
– Island
– Open Plan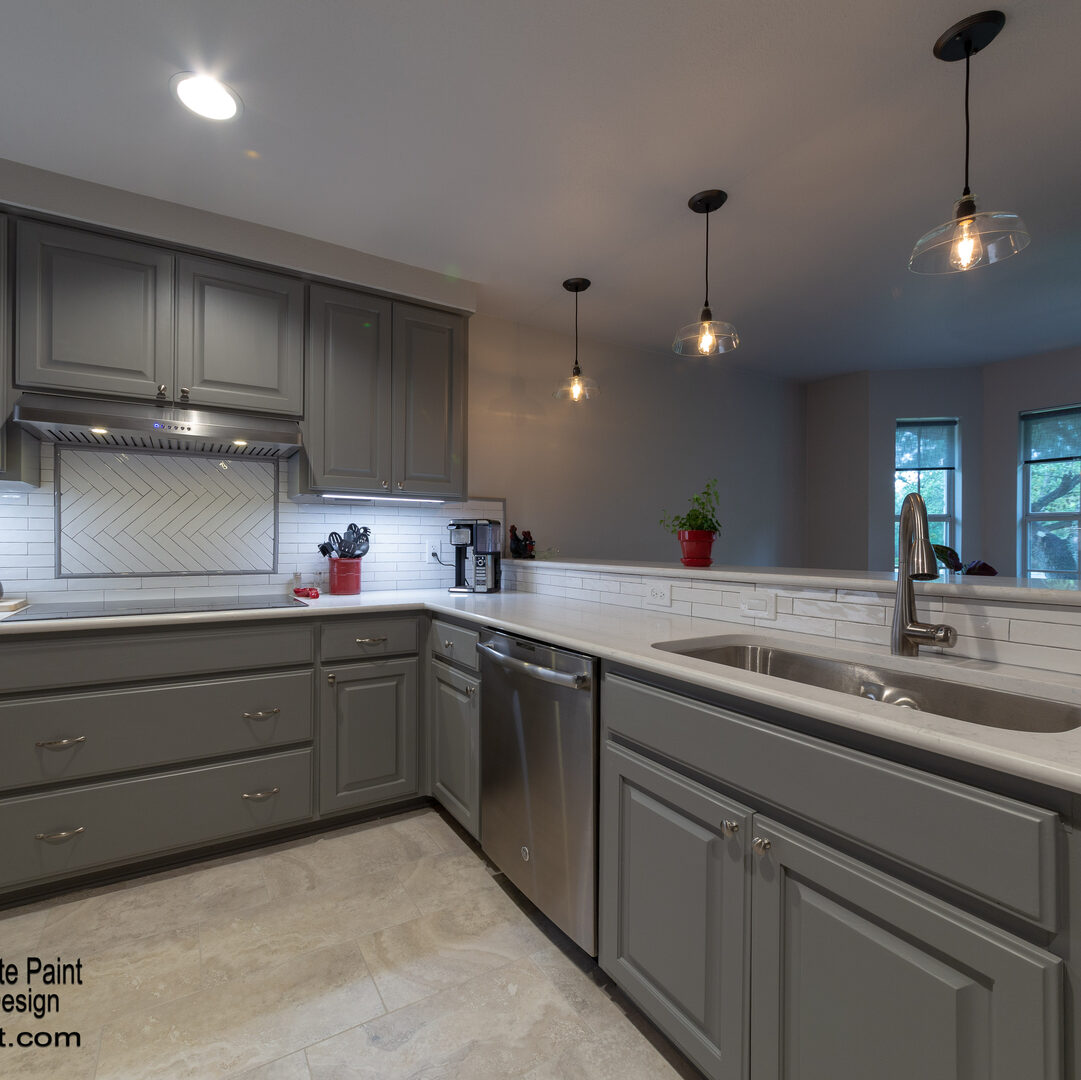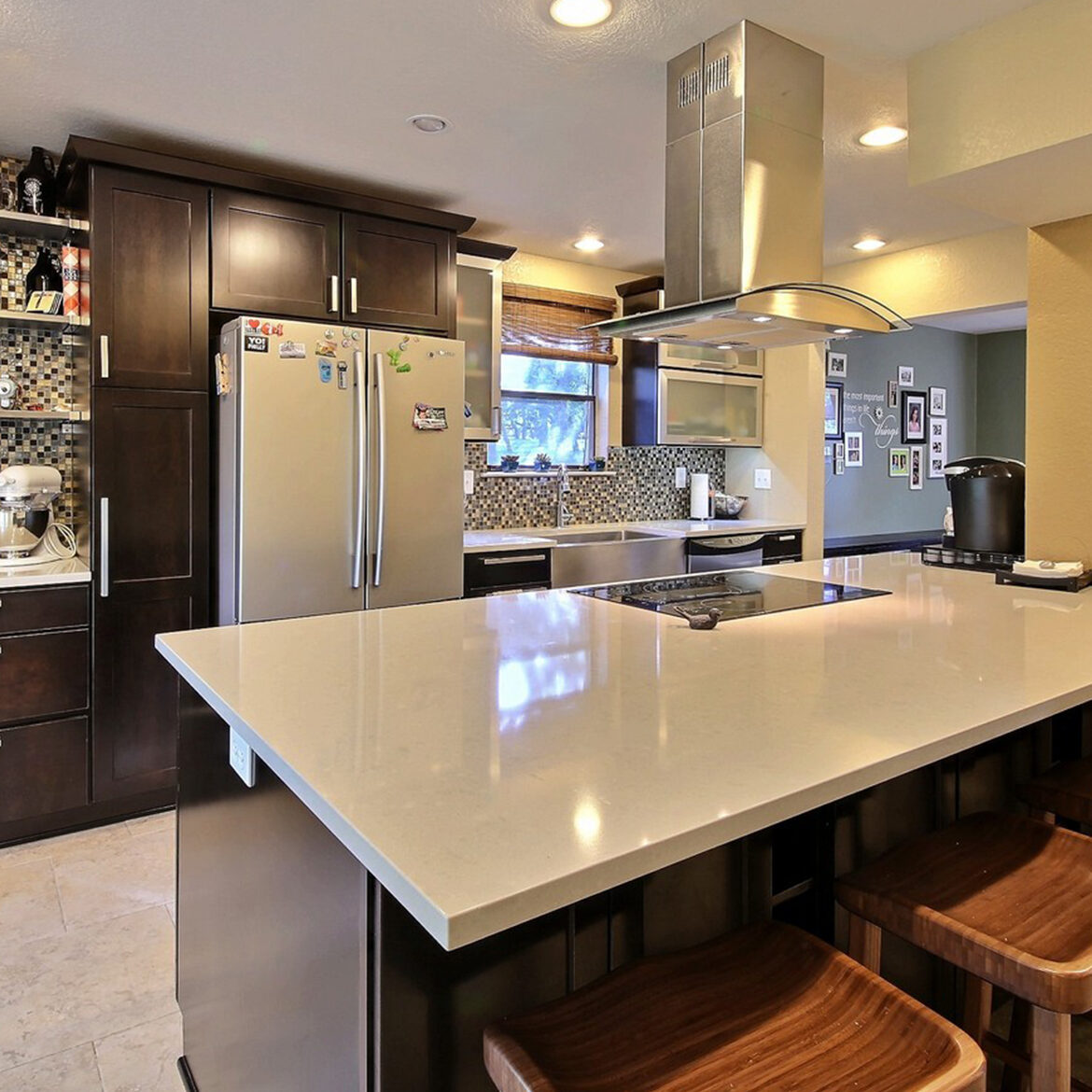 Increase the value of your kitchen by upgrading your cabinets and countertops, for a relatively low investment.
CABINETS: REPLACING, REFINISHING, PAINTING
For the most modernized and personalized look to your kitchen, installing new custom-built or pre-built cabinets is the best approach. However, if you are needing a more cost effective option, perhaps you'd like to have them refinished. Painting or staining your cabinets are also options which we have a vast amount of experience and knowledge.
When designing your cabinets, assess storage capacity, lighting, display options, materials, and the style. 
COUNTERTOPS: MATERIALS, DURABILITY, UPKEEP
Your countertops will be one of the most important decisions you make for your kitchen remodel. Here is where many homeowners begin their selection for colors and overall aesthetic. The cost for countertop replacements is in choosing the type of material and its thickness. Consider these options:
Stone: the Pros – distinctive, durable, virtually seamless, low maintenance, repairable, and impervious to water. The Cons – high cost, brittle, some are stain-prone (Travertine, limestone, and marble blemish easily if not periodically sealed), may be vulnerable to acids.
Tile: the Pros – it can be customized to suit specific shapes and sizes, is heat and stain resistant, and damaged tiles are replaceable. The Cons – an uneven surface is possible, grout collects food particles and can be difficult to clean, it is prone to staining, tiles can chip and crack and aggressive scrubbing can ruin a high-gloss finish.
Faux-Style: these man-made materials can mimic the look of stone. The Pros – they are nonporous; food can't etch it, stains are easy to remove, sealers aren't required, engineered slabs are impervious to acids and stains. The Cons – hot pans can scorch or crack it; knives can nick it, site-poured countertops can be seamless; sensitive to acids and requires frequent sealing, in reference to engineered slabs, very hot pots may cause superficial damage.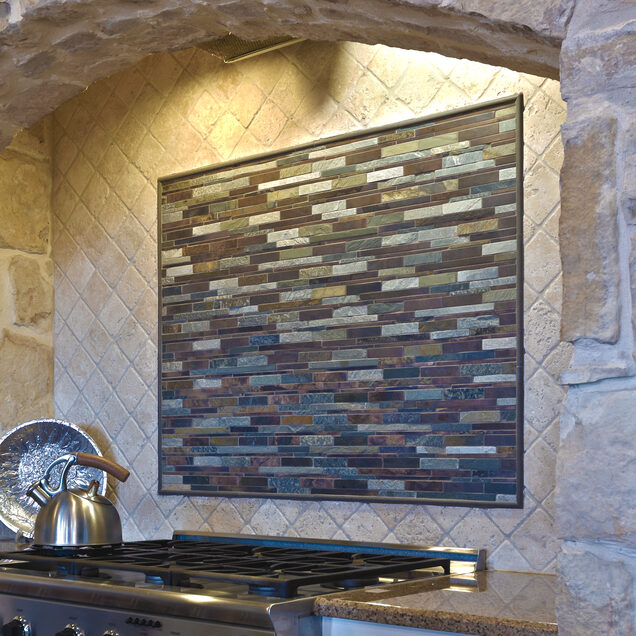 Expertly designed & installed tile for kitchen floors and backsplash.
COMPLIMENTING THE COLORS & STYLE OF YOUR KITCHEN
Designing the flooring and backsplash is one of the most important aspects for the overall look that you are wanting to achieve. Consider your selected countertop material(s) and compliment it to the tile backsplash and flooring of the kitchen. The overall color scheme of the walls and cabinets are tied into this, when considering types of tile to use.
Your choices for flooring are: tile (the most popular choice), vinyl, and linoleum. The kitchen is one of the busiest rooms in the home, so durable, comfortable and water-resistant floors are a must. Start your search for the perfect kitchen flooring by considering these five key factors: lifestyle, your sense of style, comfort, ease of cleaning, and cost.
Your selections for the backsplash tiles are: ceramic, natural stone, glass, and travertine. The layout for the tiles can be a decorative aspect for the kitchen, some design pattern options are: grid, checker board, diamond, herringbone, stacked stone, and brick/subway.
Appliance & Other Installations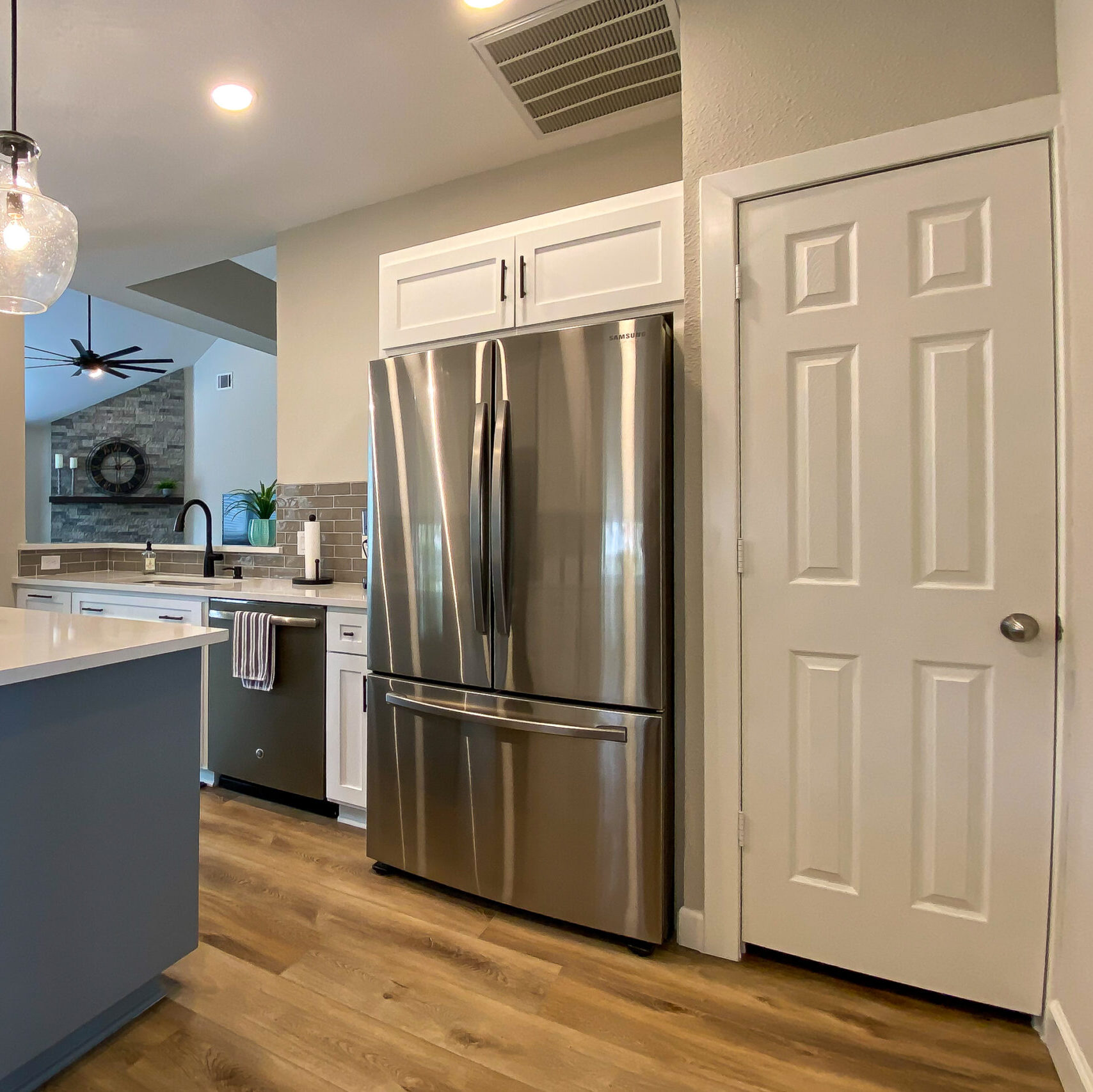 Experienced professional installations of all kitchen appliances, doors, sinks, faucets, etc.
BRINGING FUNCTIONALITY INTO YOUR KITCHEN
Modern technology today provides an enormous range of kitchen appliances, from the basic stoves and dishwashers to coffee machines and food disposal units. The type of appliance you choose will depend on practicality, looks and price. We can help in every step you take towards making your dream a reality.
In addition to appliance installations, there is a variety of design selections for other items we install, which includes: doors, pantry barn doors, sinks, faucets, shelving, etc.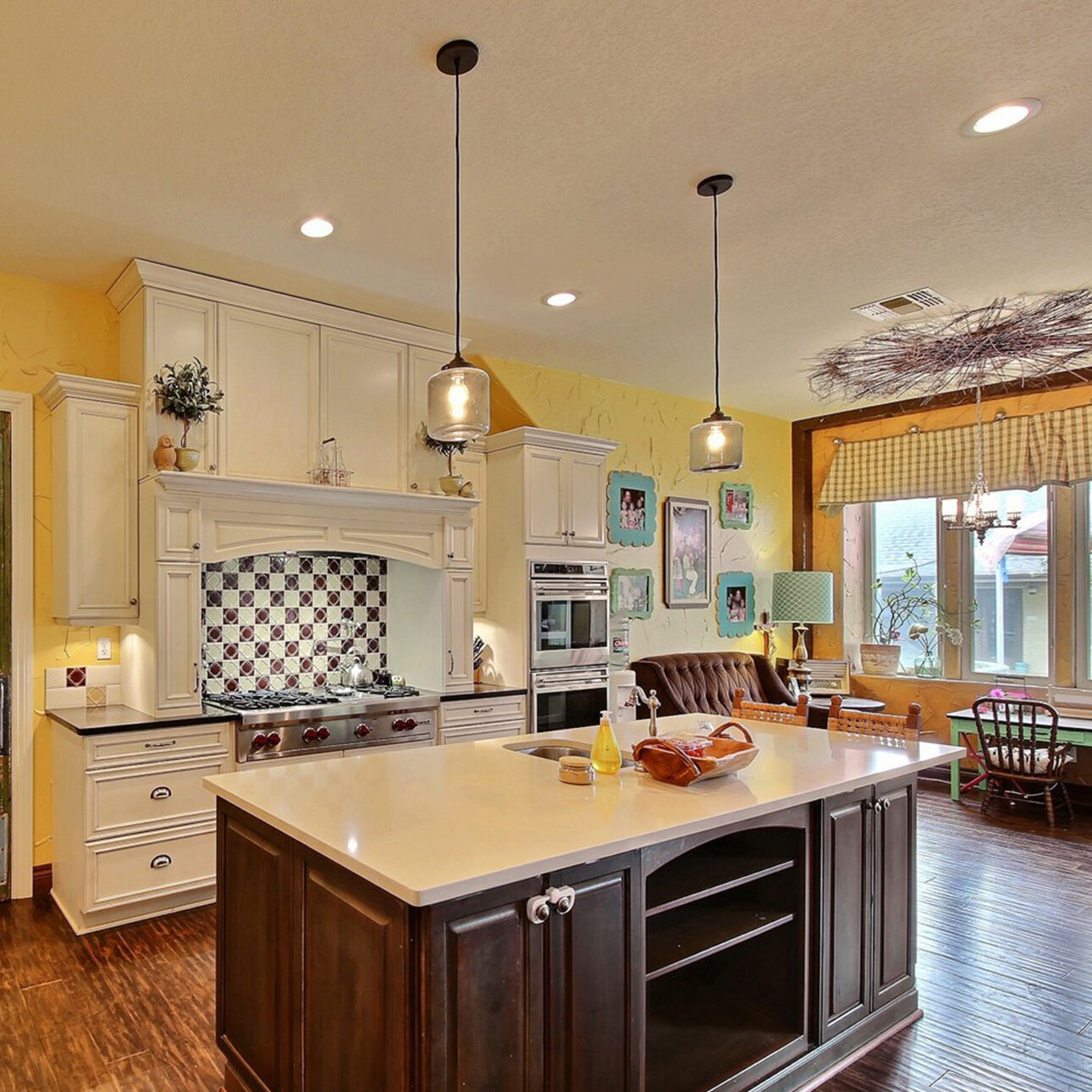 Bring your kitchen to life by adding personalized lighting, paint colors, & cabinet hardware.
SHINNING LIGHT & FLAIR IN YOUR KITCHEN REMODEL
We install any type of lighting in the kitchen: ceiling drop-downs, ceiling canister lighting, under and around cabinets, or any other fixtures that suit your style. Moreover, we also install cabinet hardware such as pulls, knobs, and hinges.
Painting is one of our expertise. In the kitchen, consider painting the following areas:
– Walls / Ceilings
– Trim / Doors
– Cabinets (painting or staining)
– Closets / Pantries