Exterior Painting & Carpentry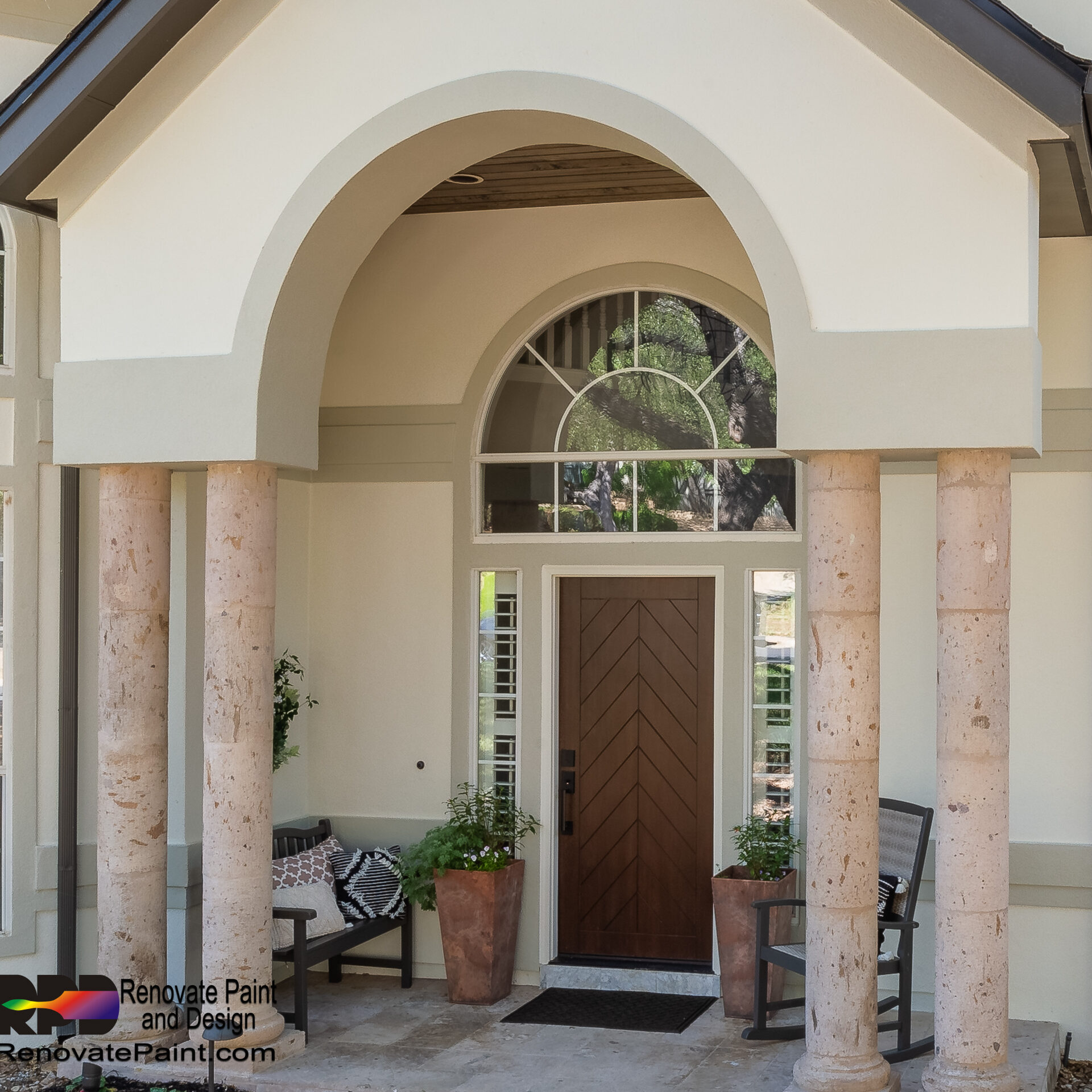 Discover the difference RPD makes on the exterior of homes by using the proper materials, techniques and oversight.
PROFESSIONAL EXTERIOR PAINTING & CARPENTRY
We ensure quality jobs by using top grades of paint and materials from Sherwin Williams, Behr Paint (Home Depot), Valspar Paint (Lowe's), Benjamin Moore Paint, and Pittsburgh Paints. Our customers can select from three different painting options: economical package, optimal performance package, and customized system package. For details on these packages, please contact us.
There are many variables to exterior painting in San Antonio when preparing the paintable surface. Without following these guidelines, the top coat of paint will fail more rapidly. In addition, the preparation and carpentry repairs needs to be addressed prior to applying a quality paint.
STEP ONE
Mildew bath and pressure washing; the surface must be clean to allow the paint to adhere properly. The use of 30% bleach to 70% water ensures that mildew and dirt build-up will be removed prior to painting.
STEP TWO
All loose and peeling paint will be scraped and sanded.
STEP THREE
Carpentry repairs: a thorough inspection will be made to account for any repairs necessary. Detriorating or rotting wood will be replaced during this phase. 
STEP FOUR
Caulking and glazing: caulking is very important in our San Antonio Heat. It is import to use a 60-year rated caulk on all open seams, corners, window edges, trim, and cracks.
STEP FIVE
Priming: any bare wood surfaces will receive a prime coat.
STEP SIX
The top-coat painting process begins! We apply the best paint that will ensure longevity of the painted surfaces. Paints and primers are applied by using a combination of over-lap spray/roll and brush; the customer may choose 100% roll and brush at an additional cost.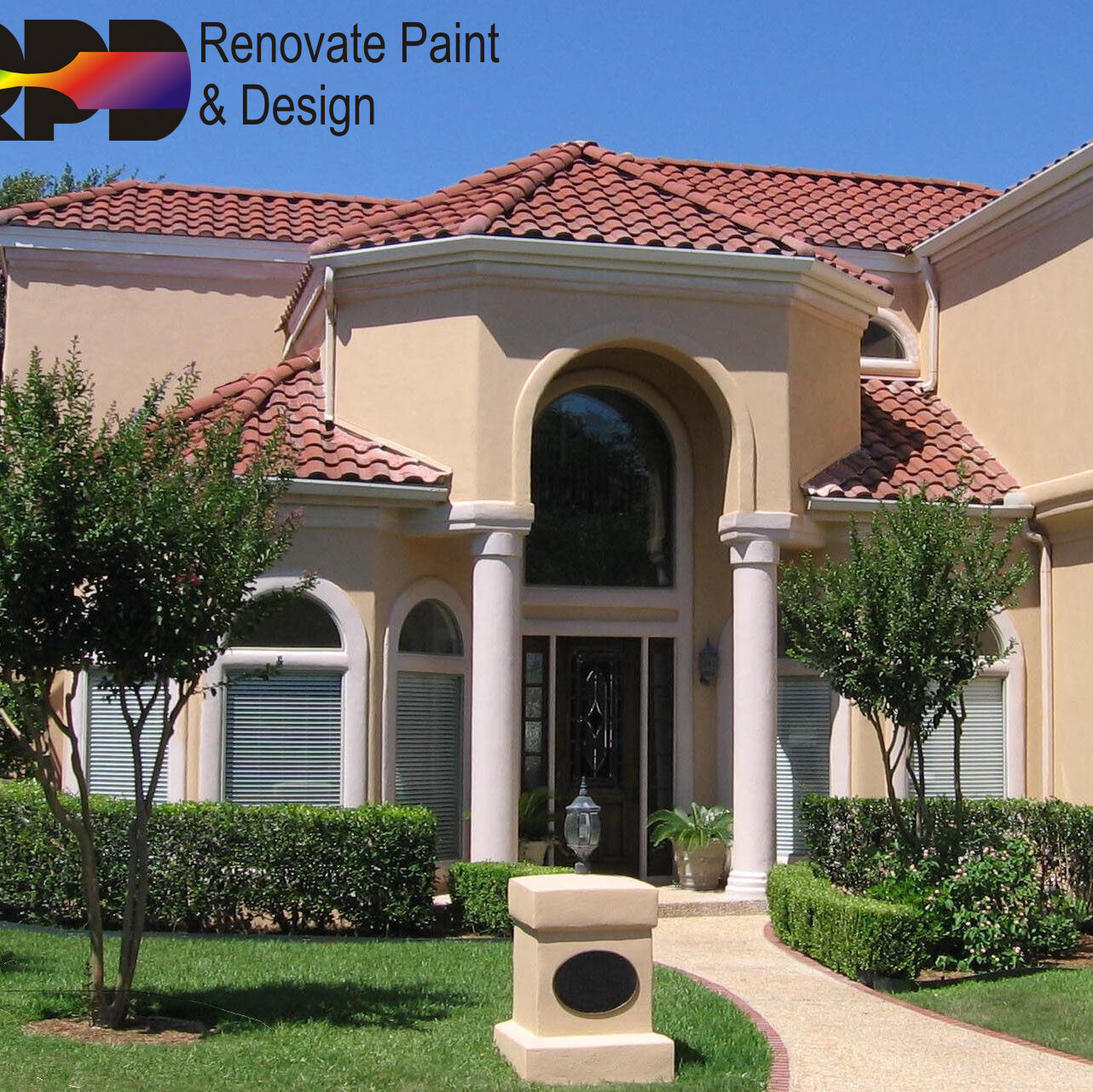 Stucco repairs and painting requires expertise in specific product applications
USAGE OF MASONRY & ELASTOMERIC PAINT PRODUCTS
Stucco repairs: hairline cracks can be filled during the painting procedure, however, at times a home may need major stucco repairs. This would include removing surfaces and rebuilding the stucco veneer.
Priming: after the stucco surface has been properly cleaned and repaired, it may require priming when there is extensive weathering or staining. LOXON Exterior Masonry Acrylic Primer adds to the protection of the stucco surface, acts as a stain blocker, and is highly alkali and efflorescence (forming of salt crystals) resistant.
Stucco Painting: One of the highest quality paints to use on stucco is Conflex XL Elastomeric High Build Coating. It provides excellent flexibility, durability, and weather resistance. The techniques used in applying Conflex will be to overlap spray or, depending on heavy texture, roll, and then back roll to ensure that the paint has penetrated pores in the stucco surface.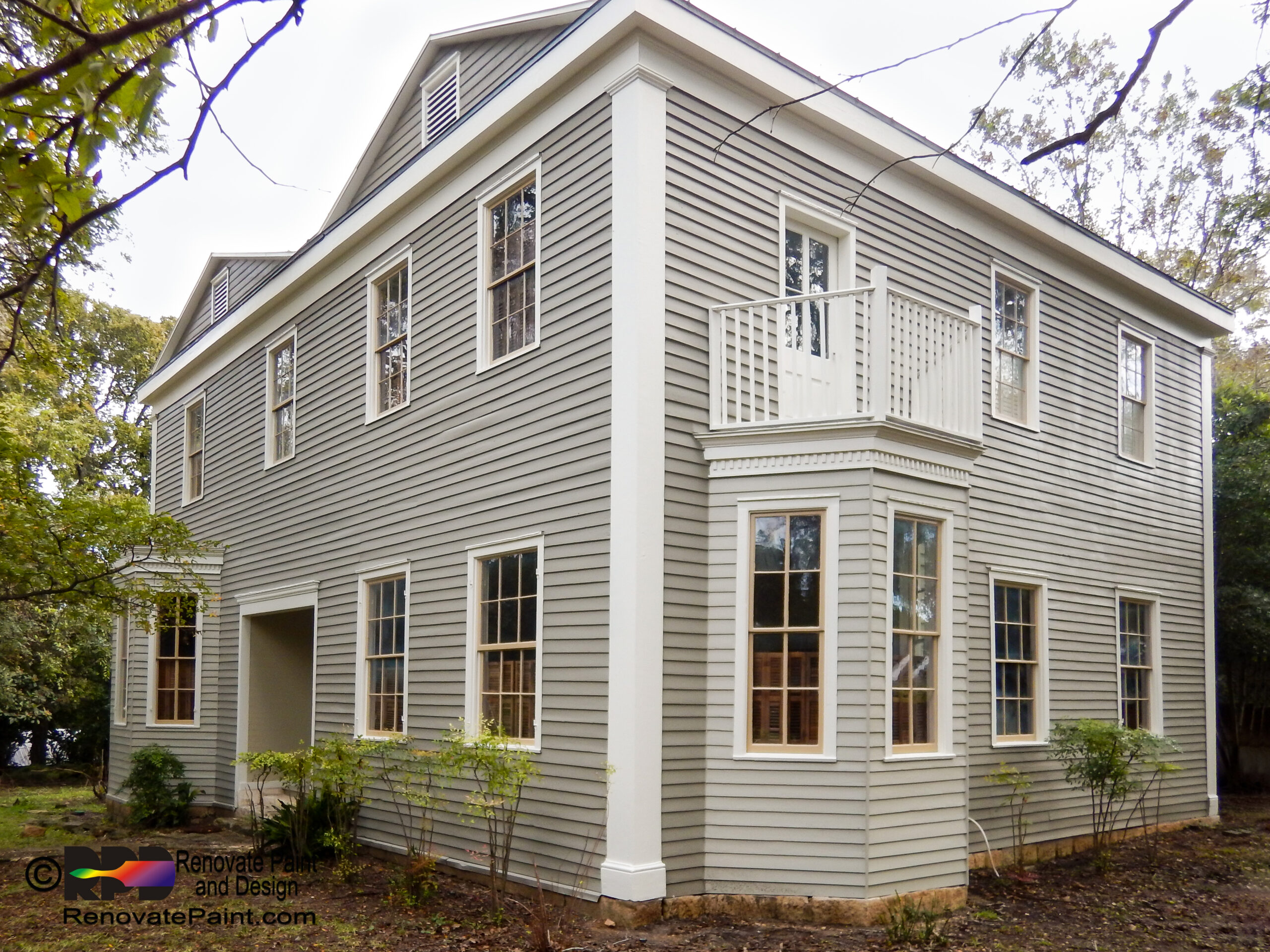 We can repair and replace most types of siding for home maintenence to improve your home's energy efficiency, solar control, and sound proofing ability.
REPAIRING DAMAGED SIDING
Prior to applying any caulk and paint, all wood and siding replacements must be made. Many repairs are due to damage incurred by our native wildlife. Squirrels and woodpeckers are at the top of the list for requested repairs to siding and eaves. Each paint team is accompanied by a skilled and experienced carpenter who can address minor to major repairs. We can repair siding made of wood, fiber cement, and masonry (ex: James Hardie).
SIDING REPLACEMENT
Replacement of exterior siding is common for many homeowners that are either needing to replace worn-out, damaged existing siding, or overall home improvement. We can replace the following types of siding:
James Hardie Siding: this is one of the most popular options for Fiber-Cement / Masonry siding.
Fiber-Cement Siding: offering the look of masonry, stucco, or wood at a lower cost, fiber-cement siding has become a popular choice for many homeowners. It is a lower mantinence non-flammable and termite-resistant. Available in a range of styles and textures, we recommend painting these for optimal color and protection.
Wood Siding: this offers a rich look and is durable if maintained properly. If you are attracted to this look keep in mind that it requires periodic maintenance (chalking and painting or staining to prevent weather damage) and is susceptible to insect or rodent attacks.
Wood siding comes in clapboard (also known as lap or bevel siding) as well as shakes and shingles. Western red cedar and redwood, woods known for being attractive and durable, are considered the best choices. More uniform in appearance but thinner than shakes, shingles give you a smooth and consistent look.