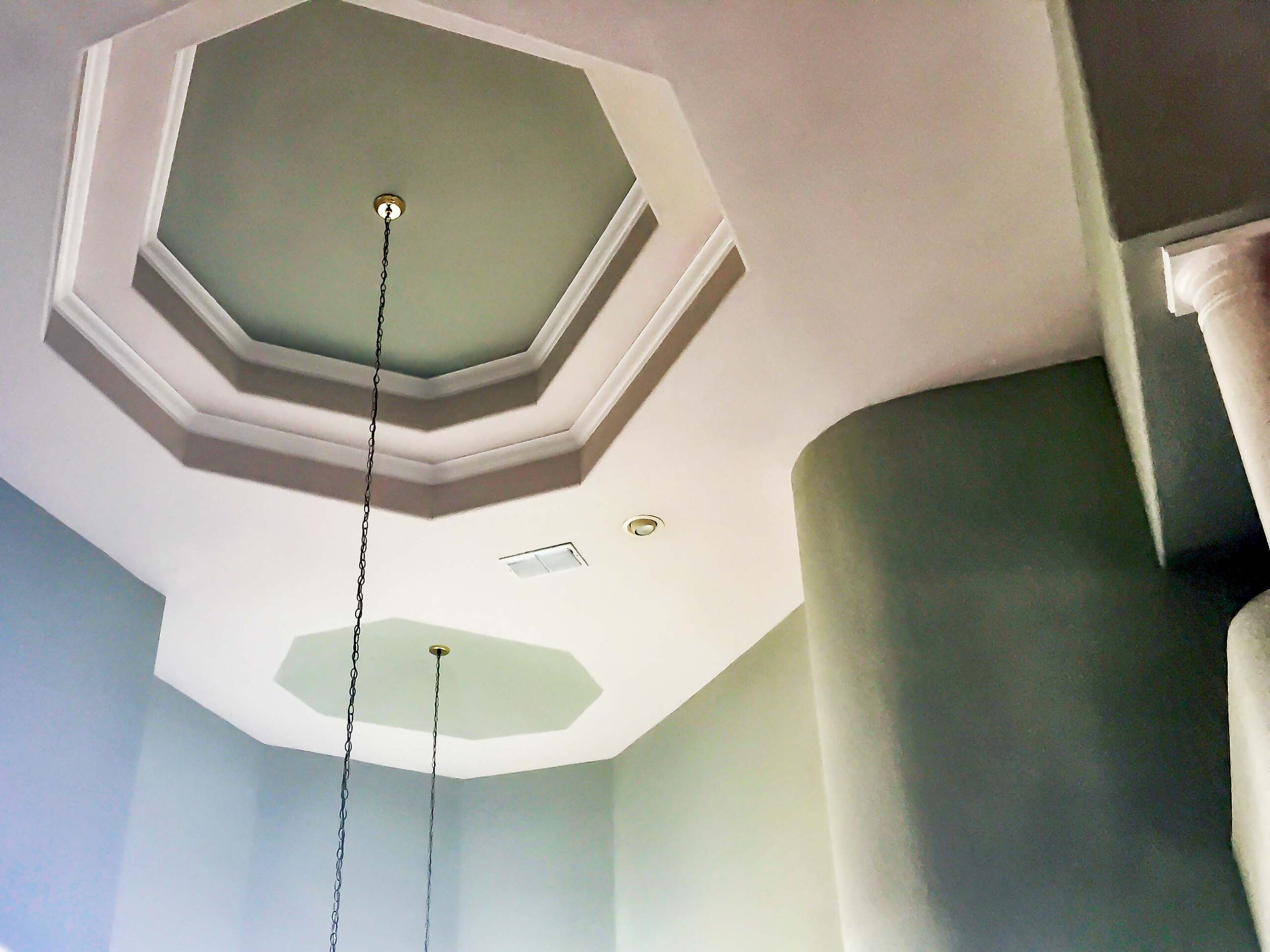 Design, technique, the best materials, and personalized attention to detail is what you have when you use RPD on your interior painting  projects.
CUSTOMIZED INTERIOR PAINTING
Our professional crews can expertly manage any interior painting project: whole house, walls-ceilings-trim-cabinets-doors, tall ceilings, wallpaper removal or painting over it; no challenge is too big! 
We ensure quality jobs by using top grades of paint and materials from Sherwin Williams, Behr Paint (Home Depot), Valspar Paint (Lowe's), Benjamin Moore Paint, and Pittsburgh Paints. Latex paint is used on walls and ceilings, and oil-based paints on most woodwork.
STEP ONE
Color consultations can be offered: every job recieves a free basic color consultation when needed. Jobs over $5,000 can recieve a free one-hour color consultation.
STEP TWO
We move all heavy furniture as necessary. We remove all drapes, blinds, switches, and outlet plates and reinstall them on completion.
STEP THREE
Drop cloths are used at all times and fresh plastic sheeting is utilized to protect furniture and floors. All hard surfaced floors are covered with heavy construction paper. Upon completion, all floors recieve a basic cleaning and paper and plastic are removed.
STEP FOUR
Prior to painting, all general repairs are completed: crack and hole repairs, tape-bed-texturing corrections, sheetrock repairs/replacement. Wallpaper can be removed or painted over (we do not install new wallpaper).
STEP FIVE
When necessary, before painting a top-coat, either a primer-coat or first-coat of paint is applied.
STEP SIX
The top-coat painting process begins! 
* Some color changes may require 2-coats at an additional cost. No guarantee of 1-coat coverage.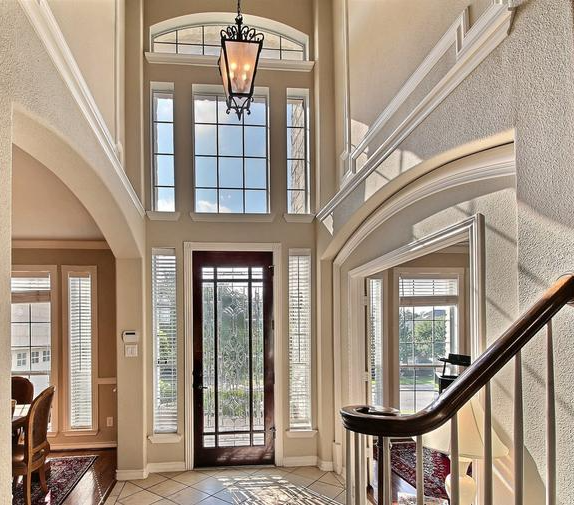 Elevate and repair your interior spaces with our specialized woodworking services
CRAFTMANSHIP IN CARPENTRY
We can repair and install all types of wood work:
baseboards
trim
crown molding
wainscot
doors
wood paneling
Many of our customers utilize our capacity to custom-build cabinets in any area of their home and update/modify their closet spaces.
Staining and varnishing is also offered as part of our services, or we can change your old stained woodwork into a beautiful, buttery-smooth, oil-based satin painted finish.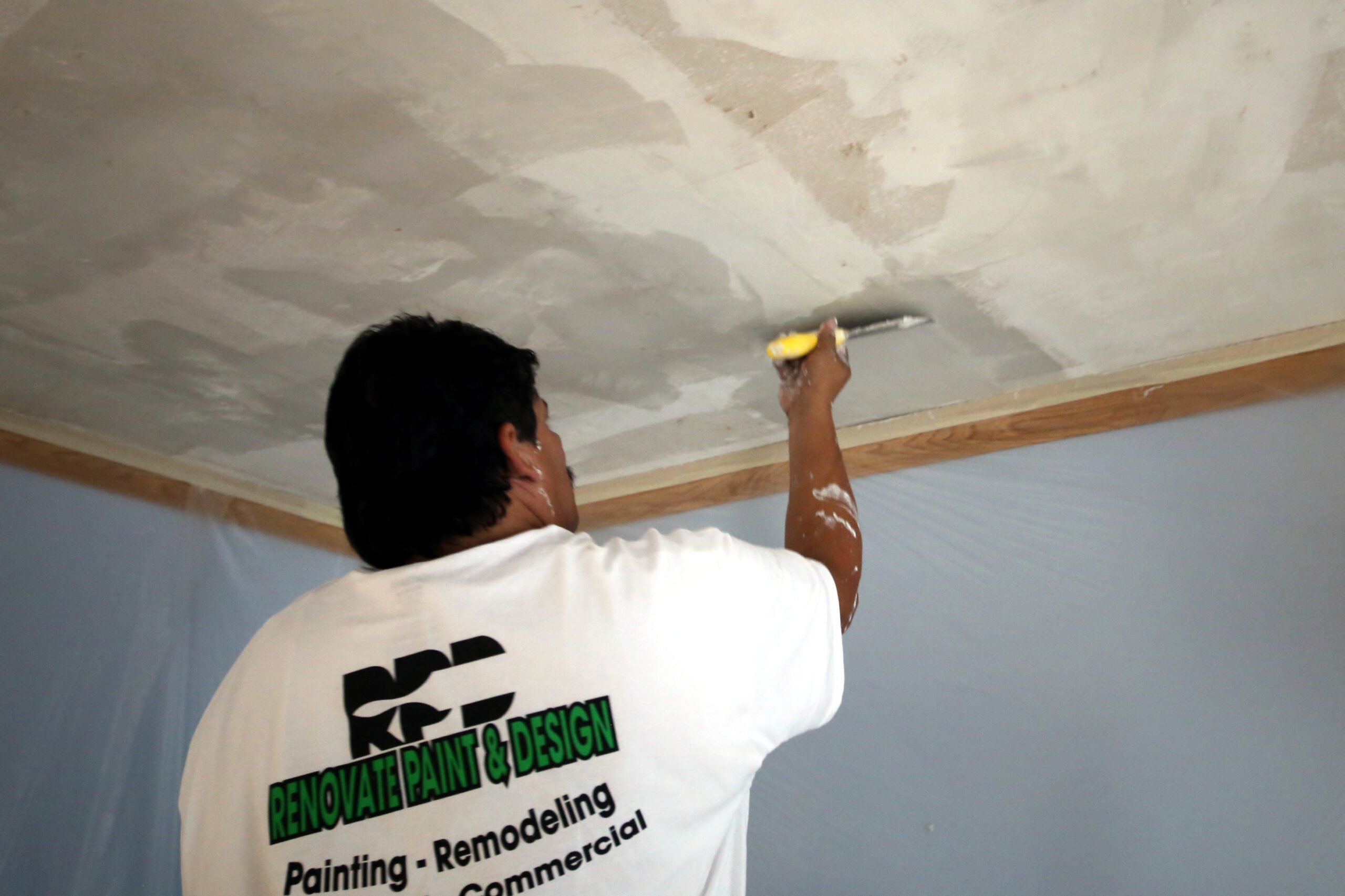 Updating and restoring sheetrock for walls and ceilings
drywall repairs & texturing
Cracks and damage can occur along vaulted ceilings, doors, and windows due to a variety of issues. The good news is that at Renovate Paint and Design our expertise goes beyond a mere patch. We repair the damage so that there is no apparent indication it was ever there. This kind of seamless repair requires professionals with years of experience.
We remove unwanted popcorn ceilings and update with new texture and painting. Typically, we apply an orange-peel texture.
We can duplicate virtually any existing texture. However, our most common texture styles are knock-down and orange-peel.