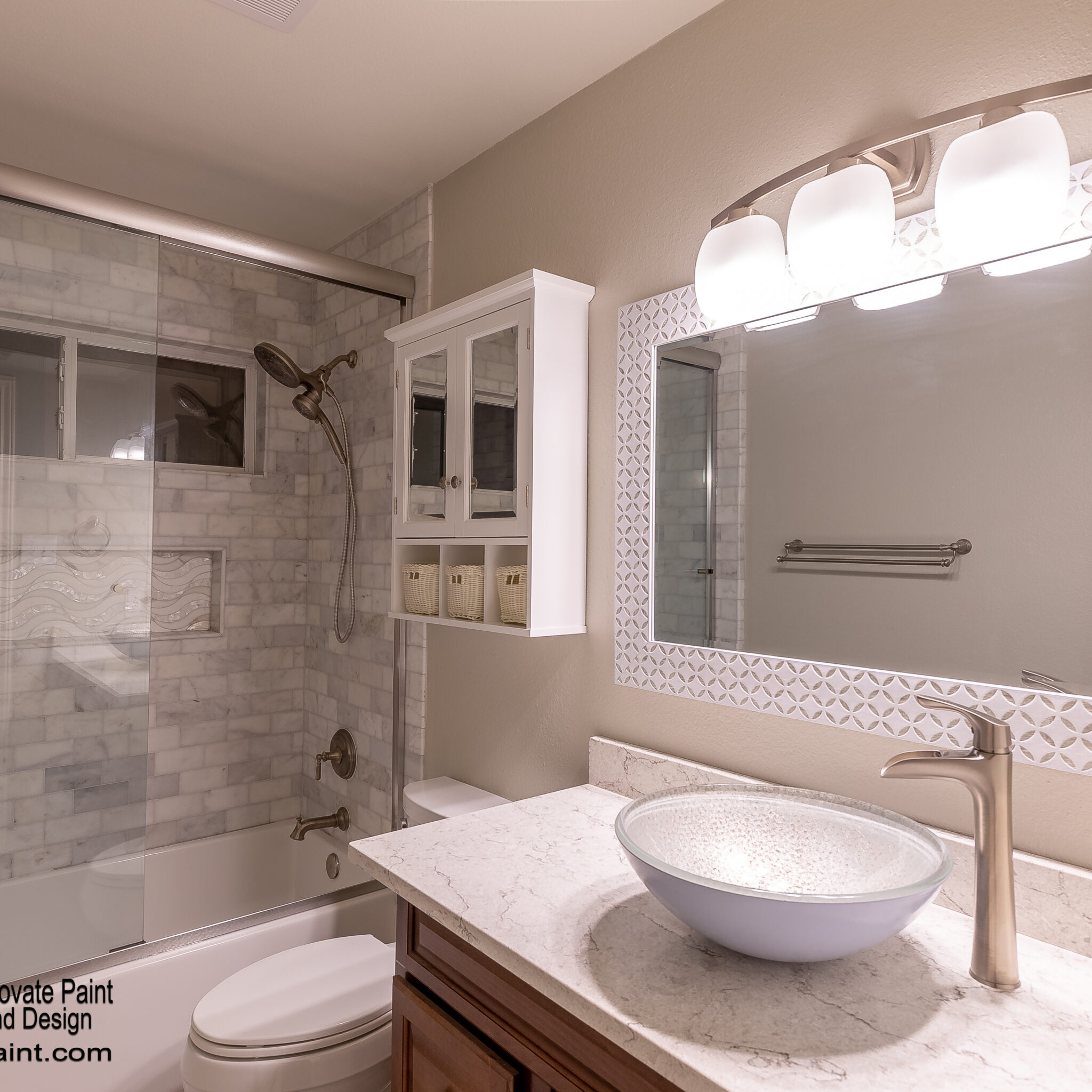 Greater San Antonio bathroom remodeling requires skilled craftmanship and experience in the most up to date and desireable designs.
IMPRESSIVE BATHROOM UPDATES FOR YOUR HOME IN SAN ANTONIO & SURRONDING AREAS
What you want in your newly designed bathroom can be as diverse as a new wardrobe: it depends on your style, needs and budget. No longer a strictly utilitarian room, master baths are becoming a personal retreat to rev up for the day's start or wind down at the day's end.
Every bathroom remodeling project we improve on is suited to meet the needs of the homeowner. Master baths can feature spacious walk-in showers, cozy whirlpool tubs with sconces for mood lighting, and can show off windows and high ceilings. Guest baths oftentimes sport traditional tile designs. Upgrading to a luxurious master bath is more than a selling point for today's homeowners, it is a necessity. However, whether looking at selling or updating your home, every bathroom remodeling needs to be considered for style and convenience.
STEP ONE
Budgeting: always a priority before starting any project. Knowing what you can afford helps guide the selection and design process.
STEP TWO
Design: when you begin to design your new bathroom remodeling project or when looking at specific areas to improve be sure to take the items below into consideration in your plans.
– Bathtub to Shower Conversions
– Multiple Shower Heads
– Double sided Showers
– Frame-less Glass Showers
– Countertops (marble, quartz, granite and Silestone or Corian)
– Cabinets and Vanity
– Sinks and Fixtures
– Tile Flooring with heating options
– Lighting and mirror installations
– Painting Options
STEP THREE
Demolition: removal of items and structures to prepare for installation of new modifications.
STEP FOUR
Carpentry/drywall: install and/or build new areas for walls, closets, shower, built-ins/shelves/seating, windows, etc.
STEP FIVE
Plumbing &/or Electrical: professional/licensed plumbers and/or electricians are utilized for necessary installation of plumbing and/or electrical items. This includes tub and shower fixtures, heating elements for tile floors, lighting, fans, etc.
STEP SIX
Tile-work & Shower glass: professionals are utilized for these detailed and precise product-installations. See below for more detailed options.
STEP SEVEN
Cabinets, Countertops, and Sinks: installation of these items can either be fully customized or pre-built. The customer's desired aesthetic and budget determines which options they choose.
STEP EIGHT
Drywall repairs & Painting: once all the major installations have occurred, often times repairs need to be made in the dry-wall surfaces prior to painting. Areas to be considered for bathroom painting may include:
– Walls / Ceilings
– Tim / Doors
– Cabinets (painting or staining)
– Closets
STEP NINE
Fixtures & Installation of amentities: this final phase is the icing on top of the cake! Here is a list of some of the items that can be installed:
– Towel-rings and rods
– Cabinet/Drawer knobs
– Mirrors
– Wall-mounted cabinets
– Doors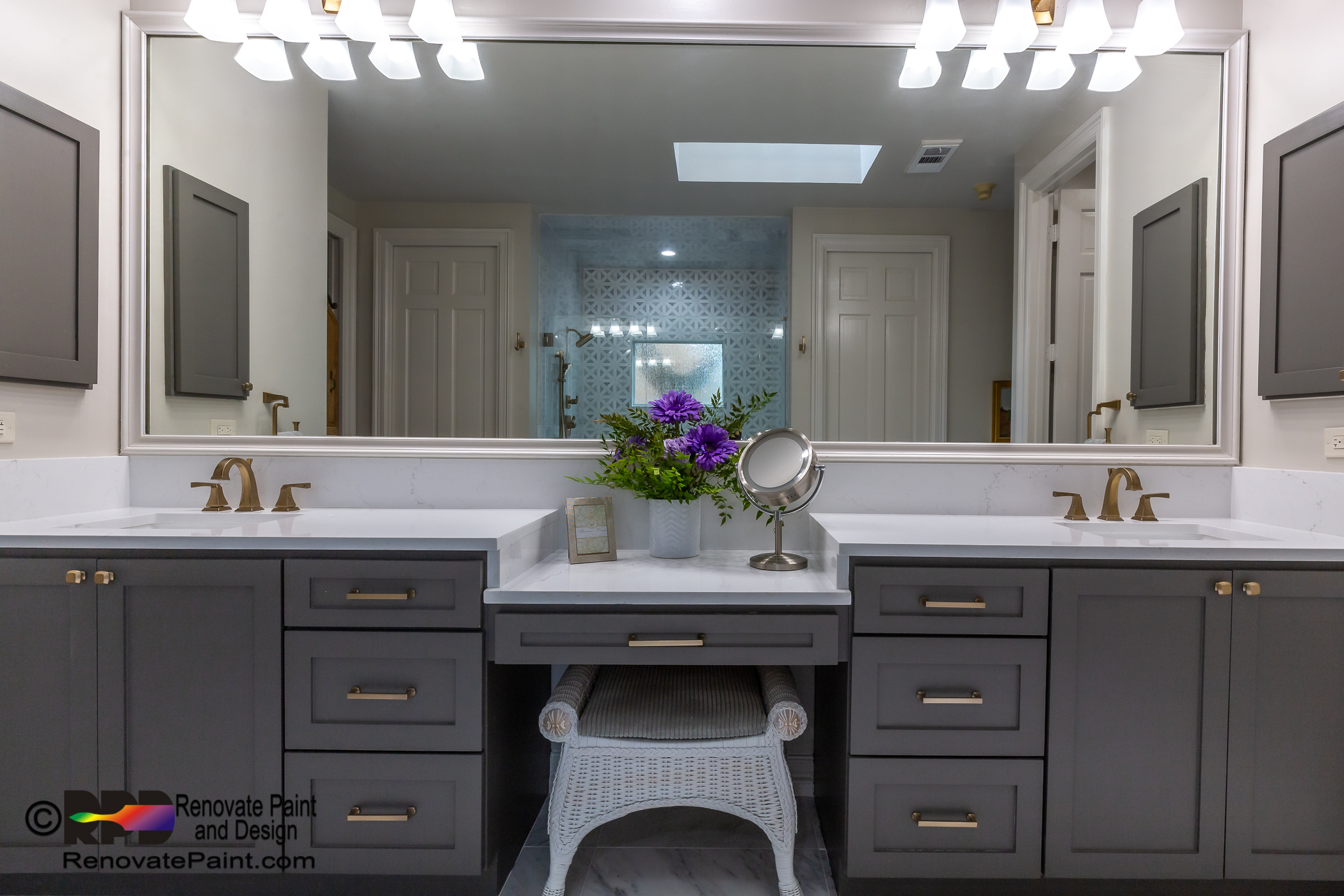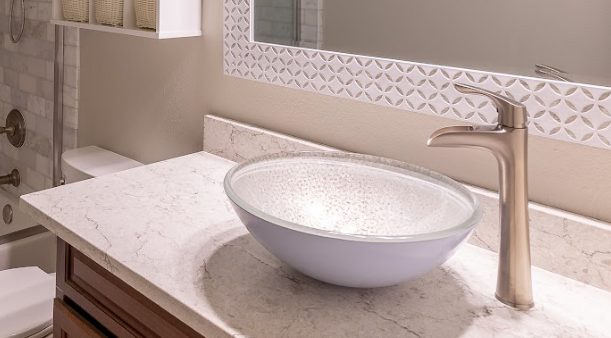 To increase the impact of your bathroom remodel, upgrading your vanity is a valuable enhancement.
CONSIDERATIONS FOR A CUSTOMIZED VANITY OR INSTALLATION OF A PRE-BUILD
Your budget and/or desired level of upgrade for your bathroom will determine whether we install a generic pre-built vanity (includes all elements) or a custom-built cabinet with a higher-grade counter top, undermounted or vessel sinks, and personally selected faucets.
Cabinets: we can install pre-built or custom-built cabinets to match your overall bathroom aesthetic. If you're not considering replacing your cabinets, perhaps you'd like to have them refinished. Painting or staining your cabinets is also an option.
Counter tops: there are different types of materials for your counter top. Material options include natural stone, engineered stone, or faux-style. At Renovate Paint and Design, we are experienced and can assist you during the selection process.
Sinks & Faucets: the bathroom sink is a vital part of any modernization. It can form the unifying point of the bathroom and has the ability to add a touch of class. Many bathroom vanities are now fitted with either undermounted or vessel sinks.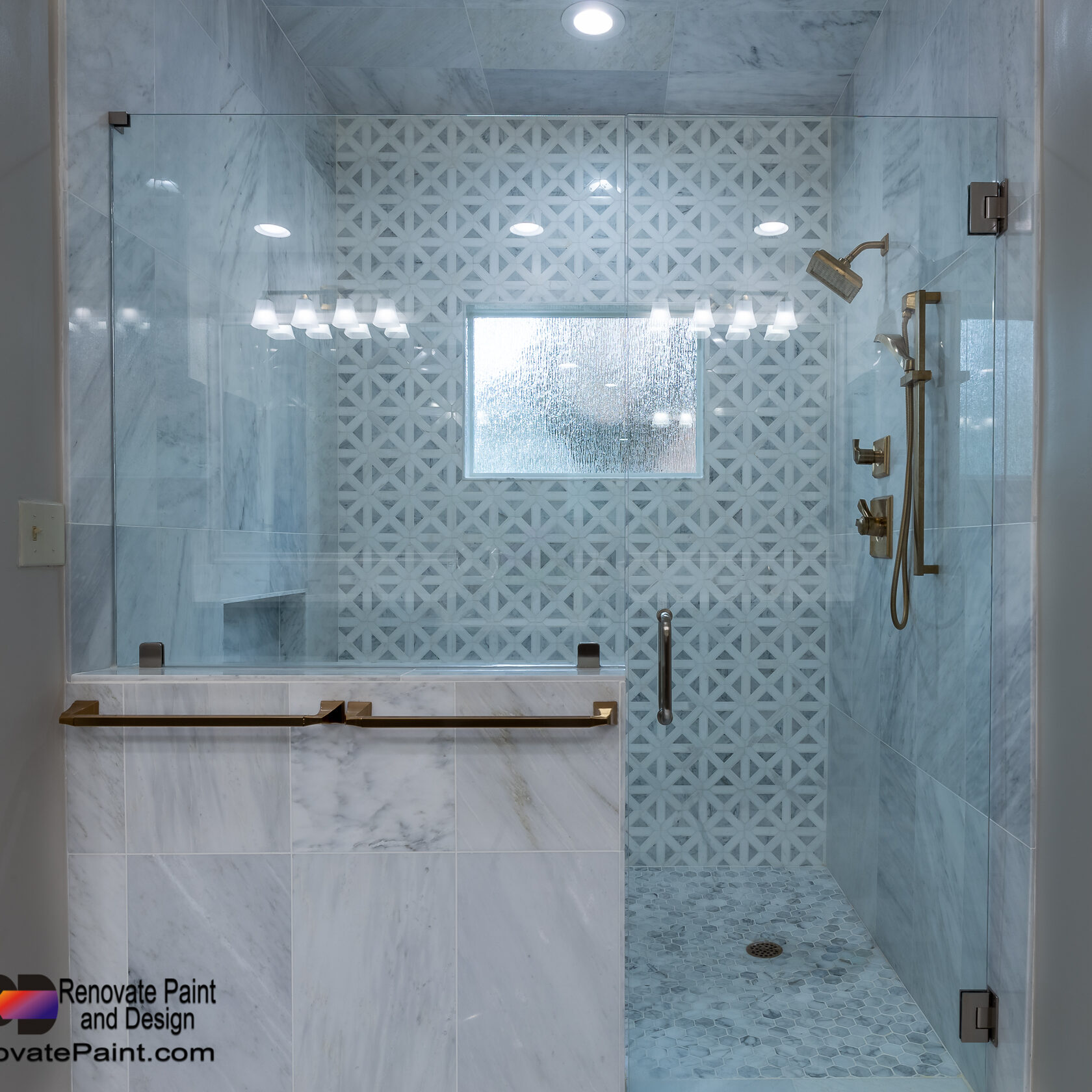 Being the focal point of your bathroom, we can apply our expertise to make a significant impact.
DESIGNING YOUR SHOWER/TUB UPGRADE
There are many choices a homeowner can choose from: garden-style bathtubs, Japanese-style soaking tubs, showers that can have custom built-ins and seats, full water spout or shower sprays from all angles, walk-in or ADA accessibility, etc. It's a bit overwhelming. At RPD, we can help you in this decision process and guide you to the selections that meet your needs.
Considerations:
– Shower wall tile; design, natural stone, porcelain, glass, etc.
– Shower door; frameless glass is the most popular option
– Bathtub-to-shower conversions; many homeowners are removing their tubs and opting to convert to a walk-in shower style
– Shower fixtures; personalize your shower experience
– Built-ins & shower bench/seat
– Tub; free-standing, style and size, jacuzzi, soaking bath, tile surrond options
– Shower floor; most desirable is stone or tile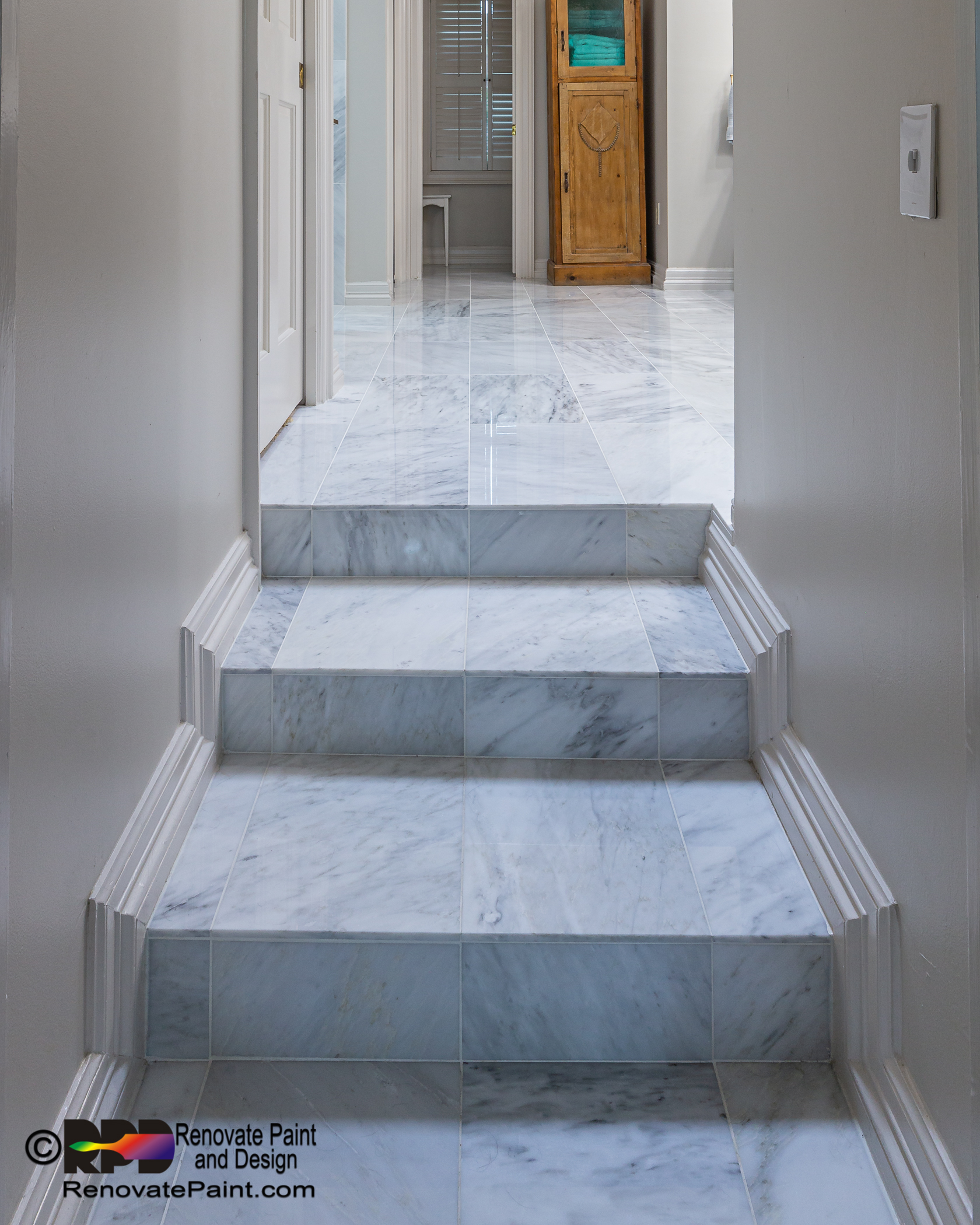 Experienced tile flooring installations to suit your bathroom's needs
SYNERGIZING YOUR BATHROOM REMODEL'S AESTHETIC
Your choices for flooring are: tile (the most popular choice), stone,and linoleum. The bathrooms are one of the wettest rooms in the home and the one where you are most often found without footwear, so comfortable and water-resistant floors are a must.
A compelling option is to consider installing heating under your tile floor. While more costly, it is an addition that many homeowners are most pleased they did.
Start your search for the perfect bathroom flooring by considering these five key factors: lifestyle; your sense of style; comfort; ease of cleaning; and cost. Talk to your RPD design specialist during the estimate process for help in making the right selection for you.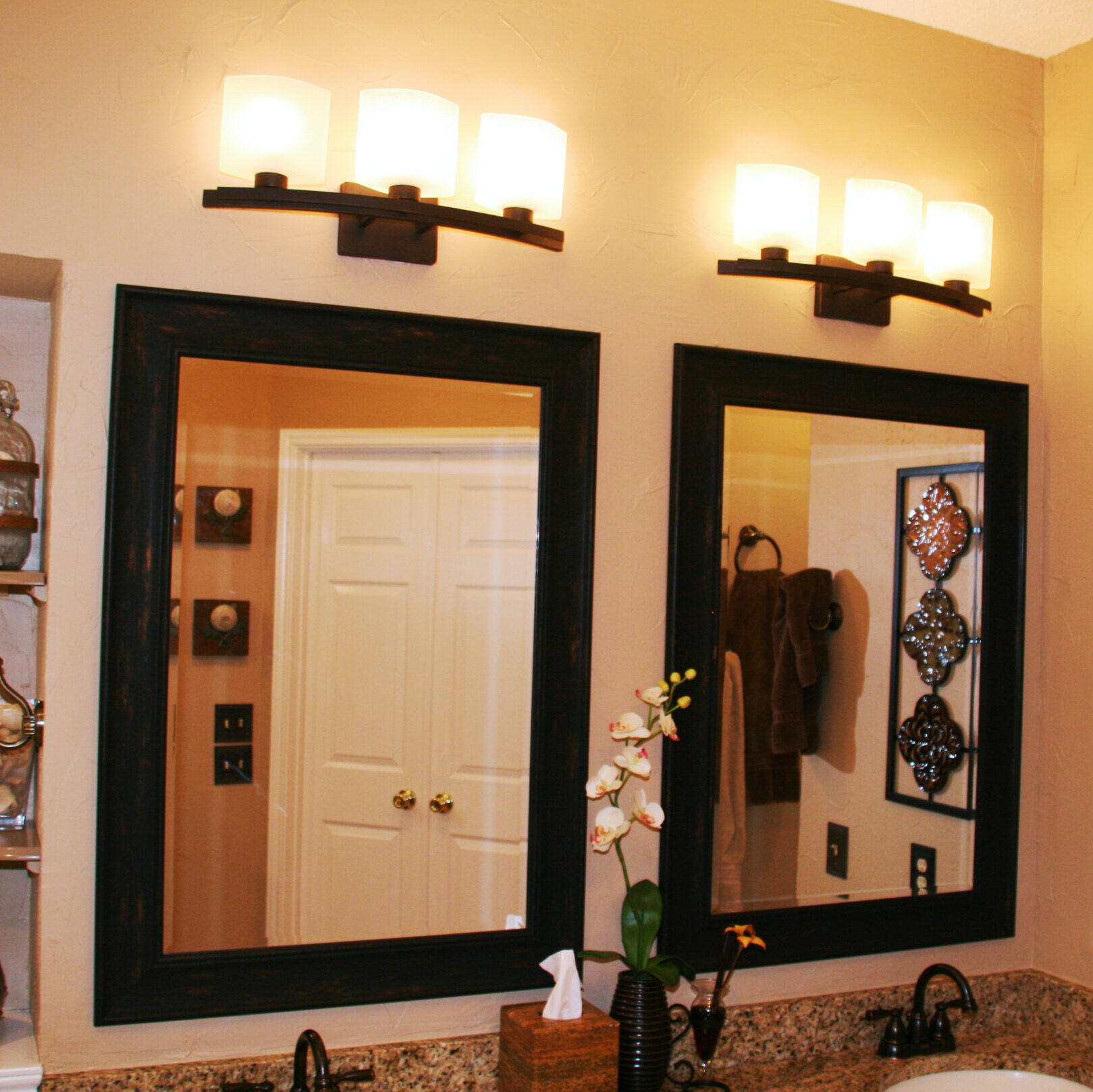 The finishing touches to your personalized bathroom remodel 
BRINGING IT ALL TOGETHER
Lighting & Mirrors: installing your lighting can involve ceiling drop-downs, ceiling canister lighting, under and around cabinets (even in the tiles!), or any other fixtures that suit your style. Mirrors are often changed out in the remodel process, especially when cabinets and vanities are moved or modified. There is a wide variety to choose from for both options.
Painting: choosing the right color to match your new design is vital. RPD can offer free color consulations.
Fixtures & Wall cabinets: in this final phase we can install drawer/cabinet pulls, lighting mounts, switches, towel rods, door stops, wall cabinets, doors, etc.